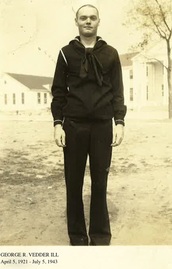 I've been lucky to have had a few Strong family members find the web site when they became interested in the time their loved one spent at sea, or in researching how they either died or survived the sinking of Strong. Just recently the family of George Vedder Ill (ILL) contacted me after their mother, George's sister, died. His niece Ann W. wanted to see what information was out there and found my website, then sent this message from the contact form:

"Hi, I just came across this site. My mother was the youngest sister of George Vedder Ill, who died July 4-5 1943 on the Strong at the age of 22. Sadly my mom passed away last June and never got a chance to see all of this information. She would have been grateful."

I contacted Ann and am thrilled to have her on board. She in turn shared the web site and my contact info with other members of her family, so I next heard from one of her cousins, Diane T. Diane wrote sharing a bit of history on young George:

"Hello.
I am a niece of George R. Vedder Ill (ILL). He was my mother's brother and one of the 46 who did not survive when the Strong went down in the Kula Gulf. I have newspaper clippings from the local papers about his death (what little they really knew at the time) that I could copy and send you, along with other photos (this she did, and I now have this information).
Also here is a brief overview of his life. His father and mother, George Curtis and Rose Kreul Vedder, had three children - Mildred, Kathleen, and George (Junior, as they called him) - all born in Emmetsburg, Iowa. When Rose and a fourth sibling died in childbirth, the girls went to live with their Grandmother Mary Williams Vedder and George Raymond was adopted by Vera Ill, a relative of Rose, and her husband and lived with them on a farm in Minnesota. George Curtis Vedder subsequently remarried and had three more children with Kathryn van der Stoep Vedder. That blended family stayed in close contact over the years, and - despite the difficulty of traveling back then - went to visit George Junior on the Ill farm when they could. Before graduating from high school, his half-brother Frank Vedder also joined the Navy (he went back and got his diploma after the war) and served on three different ships, including two destroyers and the hospital ship Benevolence (about which I have not been able to find info). His other half-brother Verlyn Vedder was with the Army's 1st Platoon that went into Korea in the immediate aftermath of WWII, well before the Korean War officially started.
Do you know if those who went down with the Strong are remembered anywhere at the memorial to the Pacific war dead on Oahu? My sister was there a few years ago, and she couldn't find him listed under either Vedder or Ill."

Basically, in helping Diane and Ann I learned of the American Battle Monuments Commission and about the war cemetery and memorial site in The Punchbowl in Honolulu, Hawaii. I've added links to these sites on the Navy Links & Research page. Turns out George Vedder Ill is buried in this cemetery and my great-uncle Billy's name is memorialized on a wall there. I'm sure more of you could search the site and find out if your lost loved one is also included on the memorial wall. As for the list of men on Strong, I have a complete crew list on PDF and would be happy to share it with anyone who asks via email.

A photograph of George is now on the Memories of Strong page, along with those of other shipmates. In this instance, I was not only able to provide information but learned a couple of new things myself. So thank you family of George Vedder Ill, and here's to more discoveries to come!

-Tammi

*Photo below added 2/01/2018, taken by Natalie Schleusner Mallak at the Punchbowl on Oahu.