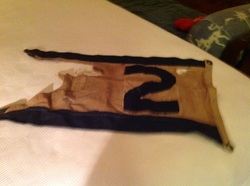 Reminder: J.H. Wellings and USS Strong DD 467 were part of DESRON 21 at the time she was lost. Here the mystery begins.


Back when I first made contact with Anne, daughter of Gus Wellings, she told me about a flag that she believed her father rescued from the Strong as it was sinking. She had held on to the flag for personal reasons, even though the bulk of his collection of personal items and documents is at the Naval War College in the library and museum archives there. Until recently, I had not seen the flag and assumed it was either an American flag or something indicating it came from Strong itself. A couple of weeks ago, Anne sent a photo of the flag and it came with a mystery.
As you see in the image above, the flag has a large number "2" on it. Strange, but I couldn't see how this flag was connected to the ship. When I have questions about things such as this, I turn to Dave McComb of the
Destroyer History Foundation (see links page)
for answers. And as usual, Dave had came through with a little more information than we had before. I sent the photo image to Dave, and his explanation was thus:
"Tammi,
It's a "broad command pennant"—one that a squadron commander's flagship would fly from the masthead of any ship in which he was embarked (in place of the ship's own commissioning pennant) (see
http://www.crwflags.com/fotw/flags/vxt-dvb4.html#broadcommandpennant
and
http://navyaviation.tpub.com/14243/css/14243_199.htm
) .
I see two questions here:
1. When
Strong
went down, why would then-Commander Wellings have had in his possession a broad command pennant from Destroyer Squadron 2? Whatever the reason, we understandably attached great importance to it.
2. Why is the number stitched on the opposite side of the pennant than what one usually sees?"
So now we know it's a command pennant, but for DESRON 2. Thus a new mystery – what connection does Wellings have to DESRON 2? Strong was part of DESRON 21, so where does this flag fit in? I decided to do a Google search using the term "J.H. Wellings and DESRON 2", and bingo! I love Google. I've solved more mysteries using Google. And Google gave me this link. Read the story for more detail:
http://destroyerhistory.org/goldplater/index.asp?r=41700&pid=41710
In short, after rehabilitation and rest from his ordeal with Strong, Wellings was sent back to the south Pacific, something I was not aware of until now. During the later part of 1944, he was given command temporarily of DESRON 2, as stated here:
"More than a month passed before the next move was made against the enemy in this theater, but on 15 September,
Morris
escorted ships up the coast to Morotai Island and rendered close fire support in this operation. Commanding the
Morris
was Commander R.V. Wheeler, Jr., U.S. Navy, who relieved Commander G.L. Caswell.
Captain J.H. Wellings, U.S. Navy, was now commander DesRon Two."


To read more about DESRON 2 and it's operations in New Guinea, refer to the link above. This narrative solves the mystery of the flag with the big number 2. The flag never was on Strong, but something he saved from the USS Morris and his time in command of another destroyer squadron. Now Anne has answers to questions she didn't realize needed answers.
Many thanks to Dave McComb and Google!
-Tammi