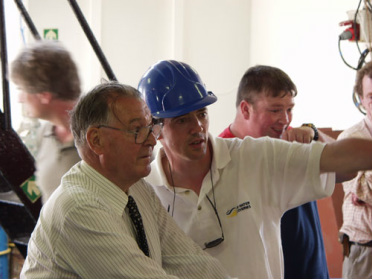 I don't know about you, but I love watching documentaries about shipwrecks and undersea archaeological discoveries. I've learned so much, and it's made the possibility of a true expedition on behalf of Strong even more exciting. Having a degree in anthropology and archaeology may have something to do with it as well, but as a kid the science of discovery and the human stories behind the wrecks always fascinated me. That being said, we have many great shipwreck hunters here in the US that are familiar to us because of programs and documentaries on History Channel, the Discovery Channel and National Geographic. Of course everyone knows Dr. Robert Ballard because of his discovery of Titanic, a tragic and historic wreck known the world over. Most people in the US however, have never heard of another American shipwreck hunter (a New Jersey native) living abroad in England, one David L. Mearns. Because most of David's work involves ships from the United Kingdom and Australia, his documentaries are shot and shown by companies that do not normally broadcast in the US, even though we do get some BBC programming here. There are some on-line sources such as YouTube however, that make it possible to view the documentary of one of David's most historic and tragic finds, the
HMAS Sydney (s
ee the link below).
David's book, "The Search for the Sydney: Australia's Greatest Maritime Mystery Solved", goes into detail on the history of WWII in the southern hemisphere, the involvement of Germany in that area of the world at the time, the history of
Sydney
herself while also giving the reader tantalizing and copious details of the actual expedition with amazing photographs. The book is one of the most beautiful publications I've ever seen (and no David, I'm not trying to suck up, it's true) which includes a full architectural diagram of the ship on the back of the folding dust cover, and a full color poster of the ship as an insert in the middle. It's big, colorful and heavy - and unfortunately not available in the US. However, there is a web site from Australia called
Booktopia
(
www.booktopia.com.au
) where it can be found, and they ship internationally. The current price for the book is $42.25 AU, but in US dollars that translates to just under $40.00, so the conversion rate is a wash. Add in about $20.00 for shipping and you still get a bargain considering the quality of this book. I was lucky enough to get a copy signed by David at a book signing he did in Sydney, just too bad I couldn't have been there in person. This blog contains information and excerpts from the book, as well as photographs credited to David and the Blue Water Recoveries, LTD web site.
The HMAS Sydney (II) was the pride of the Royal Australian Navy. She slid out of her slip on September 22, 1934 from the shipyard of Swan, Hunter and Wigham Richardson at Wallsend-on-Tyne in England. She began life as the HMS Phaeton, but while under construction was purchased by the RAN and renamed as the second incarnation of the Sydney, the first Sydney after having a distinguished career of her own during WWI was decommissioned in 1928. Sydney II was completed by September 24, 1935 and went to work under her first captain, J.U.P. Fitzgerald, RN.

Years passed and WWII came to Australia as well as Europe, Japan and the Pacific theater. Japan is a little over 3,000 miles north of Australia and thus a threat to their northern and eastern shores from the very beginning. The Germans however, came south to harrass them on their western shores and in the Indian Ocean. This led to the battle that ended the life and service of Sydney II and the German freighter turned battleship Kormoran. They met head on off the western coast of Australia on November 19th of 1941, each ship bombarding the other until they were both crippled and sunk just miles apart. Not one of the 645 men survived on Sydney, while Kormoran only lost 74 of 395 men. The Australian people were demanding to know how this happened:
"The shock of Sydney's loss was enormous and felt deeply all across the nation. Australians believed that they had lost the bravest of men fighting on the Australian Navy's best and most famous ship. Sadness and anger was quickly
replaced by disbelief and intense questioning. How was it possible that Kormoran, this seemingly inferior converted freighter, was able to defeat and sink the glorious Sydney?"
After many years of effort, the citizens of Australia raised $5,000,000 toward the search effort, and David Mearns went to work in 2008.

I'm going to be brief here, because I really want people to check out the book and watch the documentary on line to learn how David works and applies his skills to finding some of the hardest to find wrecks. Sydney was deemed impossible to locate by most people, even the Australian government. David says, "I can remember very well the first time I heard about the story of the HMAS Sydney and the great mystery surrounding her final resting place. It was late January and I was in London attending a conference on the protection of underwater cultural heritage, which is another way to describe ancient shipwrecks and their cargoes." Later in the meeting he had a chance to discuss it further with a maritime archaeologist from Australia, Graeme Henderson, and learn more. Because David specialized in deep water wrecks, the archaeologist was keen to interest him in the project. "It was clear from the way Graeme spoke about Sydney and her men, that this was no ordinary shipwreck story and that the memory of Sydney held a very special place in the hearts and minds of Australians." He decided then, that it would be his mission some day to locate the ship, and give the people of Australia the closure they badly needed.

In early 2008, David was able to begin searching for both the Kormoran and Sydney along the western coast of Australia. His plan was to first find Kormoran, and adjust his calculations to locate Sydney which should have been within a few nautical miles of the search box for Kormoran when they both sunk. His strategy worked, and on March 17th of 2008, just hours after announcing that they had located the wreck of Kormoran, his team located the wreck of the HMAS Sydney! They had schedule 45 days to complete the search, and achieved success about halfway through, ahead of schedule. The people of Australia could begin their healing process, and David could add one more successful expedition to his list of hard to find wrecks.

Learning about David's work is important to me, because I've learned much about his interest in the human story, ethical practices and his methodical approach to finding these wrecks. He's not in this for the glory of discovery primarily - the human history is important to him, helping people find closure and telling a good story, something heartwarming to ease the pain of the tragedies in the past. This is what I hope to accomplish for Strong, so by viewing this documentary you can see what we hope to accomplish for our families as well. If the opportunity arises to film Strong, David will apply the same principles that make him successful every time.

Tammi

P.S. The documentary is no longer available on YouTube due to copyright issues. Hard copies can be obtained on Ebay's Australian site, but they are not region 1 as required for the US. You need a multi-region DVD or Blue Ray player to view them, or a way to convert them to region 1. (4/3/2016)