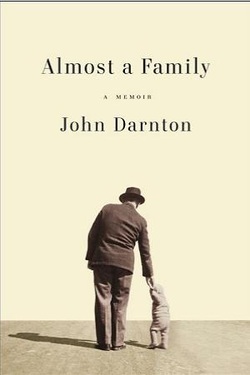 Back in April of 2011, I became acquainted via emails with author and former writer for the New York Times, John Darnton. Darnton worked for the Times for over 40 years, following in the footsteps of his father Barney, a journalist for the Times who was killed during WW2 in Papua New Guinea while on assignment. He has written both fiction and non-fiction books as well as 40 years of magazine articles, the book released in 2011, a memoir titled
'Almost a Family'
. I decided to read this book, hoping to gain some insight on his personal journey, and perhaps pick up on ideas that might help me in pursuit of information on my uncle Billy. Darnton painfully describes his childhood after the loss of his father. Sadly, he was only 11 months old when his father went away to cover the war in the Pacific Theater, and never got to see him again. His mother raised John and his older brother Robert alone and through many difficult times, never remarrying. Darnton gives the details of his upbringing as he weaves in the story of his father's death by accidental friendly fire. The story of his life makes for a beautiful memoir as you see how he shaped his life and future after pulling himself up from the trials of his childhood. The only true similarity I found between us after reading the book, was the desire to know the person we were researching intimately, to understand what really happened to them and how we came to even be on this journey. And my story is just that, the steps along the path to finding out about my uncle, his life above and beyond what happened to him in the Solomon Islands, and what led me to this point in the first place. I have no desire to bore readers with the events of my childhood, so there will be no memoir here. Mr. Darnton and I are of one mind about one very critical thing, however. In
'Almost a Family'
, page 31, he says:
"But sometimes I almost wonder, is it even remotely conceivable that perished souls live on in some kind of parallel world and decide from time to time to reach in and tweak our own?"
He phrases this as a question, but believes in his heart this is what has happened with his father.
Various events led him to pursue information, and over time he received validation after validation that he was on the right track and doing just what was expected of him.
He ultimately ended up in the village where his father died, meeting people who rescued other men from the boat struck mistakenly by an American pilot who had not been advised that American vessels with journalists would be in the area.
I too, have received help over the years, in the form of amazing coincidences, and
I mean the "I can't make stuff like this up" kind of coincidences.
I need to follow this path to where ever it will lead me.
Of course the ultimate goal is to visit the Kula Gulf, see the Strong via ROV aboard a research vessel and to attempt to meet islanders who still recall the event.
There is the real possibility of meeting elders who recall the rescue of survivors from the sinking of the Strong and I'm counting on the fates to help make this happen.
To learn more about the book and John's journey to find his father, visit his web site:
http://johndarnton.com/
-Tammi