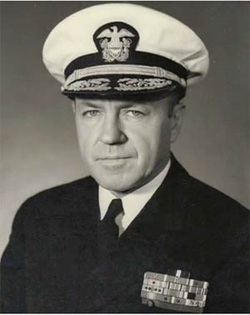 There were many heroes the night Strong went down, even some not on the ship.
In the wee moments after she was struck by the torpedo on July 5th, 1943, another destroyer captain in DESRON 21 rescued 240 men while taking fire from shore batteries.
It took just around 7 minutes to accomplish this feat before Captain Ephraim McLean had to pull away from the sinking Strong in order not to become a casualty himself.
As it was, Chevalier was damaged when she rammed into Strong in the dark in order to get close enough to rescue the crew.
It didn't help that in the melee of ships scrambling in the dark to get into position, the USS O'Bannon hit Chevalier causing a surge forward, and she slammed into Strong a lot harder than planned, and this increased the list of the sinking ship in the water while ripping a hole just above the water line in Chevalier's hull.
While joined, the Strong's men scrambled aboard Chevalier any way they could, via lines thrown across to secure the decks or cargo nets thrown down the sides to aid men coming in from the oily black water.
On that dark and disastrous night, Captain McLean helped 240 men live to see their future.
I've recently become acquainted with a grandson of "Eff" McLean, Mike Hoffman.
Mike has shared an article, some photos and a couple of web links with information about the career of this man who, "smiles easily, talks softly and avoids fuss."
I have posted the article, "New Boss of Naval District" from the Philadelphia Inquirer by Hugh Scott, dated November 11th, 1956 on the Memories of Strong web page.
The photos that accompanied the article are there as well.
While the article is wonderful and gives great details on the life and military history of McLean, you will notice that he listed the wrong date for the Strong sinking and I believe we can overlook that (he has it happening in June, not July).
I'm also going to share a couple of links that Mike has provided.
One link is to a YouTube video produced by Mike about his grandfather.
The video is titled "United States Navy Heroes, USS Chevalier DD 451", and is 13 minutes of tribute to a man he admired.
About 3 minutes in you will see a depiction of the Strong sinking, and do keep in mind that the night fighting represented is not from the actual event.
We are working to see if any such film exists, possibly from one of the light cruisers.
There is a still shot on the Memories of Strong page that was taken from Helena and perhaps it's possible there could be film.
The second link is a page describing the Naval history of Captain McLean, and I invite you to have a look at both.
Without the quick thinking and courage under pressure of McLean, many Strong families would not have seen their men again and those of you younger than 69 or so would not have been born.
So thank you Captain McLean, we truly appreciate what you accomplished that night over 70 years ago in spite of the danger to your own ship and crew.
It made a difference.
And thanks Mike Hoffman, for sharing.
-Tammi
Youtube video link:
http://www.youtube.com/watch?v=5wbjTUtoiN4
Davis-Monthan Aviation Field Register:
http://www.dmairfield.com/people/mclean_er/index.html