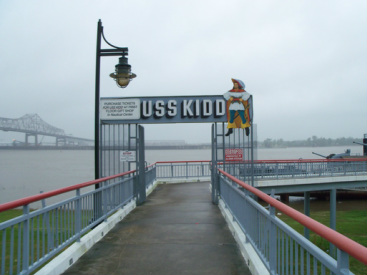 We have many wonderful museum ships across the country from the east coast, to the west and even in Hawaii.
These ships are aircraft carriers, light cruisers, battleships and one or two Fletcher-class destroyers even.
I believe in keeping these ships alive and active, in maintaining them as repositories of our history at war and using them to educate and inform people, from toddlers to gray haired grannies and grandpas.
This takes visitation and it takes money from tourists who pay the fees to get on board and who purchase items from the gift shops.
So I'd like to focus on a ship every so often, give you an idea of what's there to be seen and invite you to visit and support them.
You can't help but be moved emotionally by walking the decks of these amazing ships and walking with the spirits of the men and women who served on them.
To begin, let me introduce you to the USS KIDD DD 661.
My husband Greg and I visited the USS KIDD DD 661 Museum in Baton Rouge, Louisiana in May of 2011. I had always envisioned visiting a Fletcher-class destroyer like the one my Uncle Billy was on, and set about trying to locate a suitable ship. After searching Google I learned there aren't many left. The ships that have survived sinking, the scrap yard or sale to foreign countries can be counted on one hand, and only a couple are available for the public to visit. Of the ships still around, the KIDD is the only ship of its kind and era that is still in close to original condition. Aside from the repair job she underwent after a kamikaze attack and a very few adornments from the Korean War era she is the same ship launched at the Federal Shipbuilding and Dry-dock Company of Kearny, New Jersey on February 28, 1943.
KIDD is docked on the Mississippi River there at 305 South River Road, next to the River Center and just a stone's throw from the Louisiana Old State Capital. To set up a visit I first contacted then director of the museum, Mr. Maury Drummond, who directed me to his assistant Mary Fish. It's already humid and sultry in Baton Rouge in May, but being overcast the day we visited helped keep down the heat. On an all metal ship, that was a small blessing. I had explained in advance my reasons for visiting, such as needing to see where Billy worked in the CIC and chartroom area, and to scope out the ship for possible use in a future documentary. Mary was exceedingly accommodating and gave us VIP access to the ship. We got into areas most visitors never have access to. This provided me with an amazing perspective on life aboard the ship while she's underway, which I needed in order to understand more about my uncle and the last 6 months of his life on STRONG. The area my uncle and his crew worked in was not much bigger than a large walk in closet. At full capacity and under battle conditions there might have been 16 men in that space; hot, cramped, loud and unpleasant on the best day. To orchestrate navigating the ship and executing battle orders under these conditions is unimaginable. This is what I wanted to see and understand. This was a necessary step in the journey to bring life back to the STRONG, and give the ship and her men the proper platform for telling their stories.
We were able to take some amazing photographs that day and I will share some of them with you. I won't go into the larger story of KIDD, her battle history and such as someone else has already done that. Links are posted below. I heartily encourage any of you who want to feel closer to your sailor to plan a visit to the USS KIDD DD 661, for starters. The new director is Alexandra Juan, and I'm sure a phone call to her staff there at the museum would insure wonderful experience for you as well (225-342-1942).
From there, branch out and visit the many other wonderful floating museums we host in this country. It's a shame we don't have the funds or support to keep every ship in the fleets as repositories of our military history. But the ones we do have constantly need our support, our visitation, and dollars if you have them. Knowledge of our history is priceless, maintaining it, not so much. It's worth it, and I hope anything that happens as this project goes forward can benefit these ships and their museums. I believe our sailors would appreciate that. Just one more way they will always be remembered.
Main web site:
http://www.usskidd.com/
History of the ship:
http://www.usskidd.com/hist661.html
Additional info:
http://destroyerhistory.org/destroyers/index.asp?r=7300&pid=7303
List of museum ships:
http://en.wikipedia.org/wiki/Category:Museum_ships_in_the_United_States
-Tammi