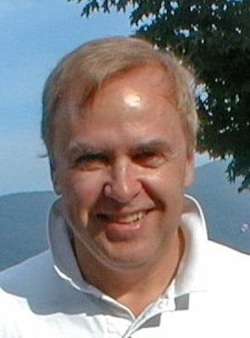 Over the course of many years that I have been doing research on the STRONG, on WW2 and the Pacific Theater, I have met and corresponded with many people in the field who have shared information and resources with me freely and without hesitation. These folks have never asked for anything in return, yet I've always managed to reciprocate in some way. Some I have been fortunate enough to meet personally, others have just been contacts through email or telephone. Either way, I cherish them all and am especially saddened when one of these folks drops off the radar due to illness or death. I learned today of the death of a wonderful guy and an invaluable resource, David McComb of the Destroyer History Foundation.
I first contacted Dave back in 2007, and for 7 years he has answered every question, introduced me to lots of other people who have been helpful and shared his vast knowledge with me. A few weeks ago I noticed he wasn't responding to a couple of email enquiries and became concerned. A couple of weeks ago I found out he had stage 4 cancer and was in hospice care. Shortly after learning this I sent a card and letter to Dave to let him know he was in my thoughts, and he never got to see it.
I owe Dave so much for his help and support. Because of Dave's listing my web site link on his page for STRONG DD 467, I met Stephen Harding. I learned through Dave back in 2007 that Milt Hackett was still around and was able to contact him, whereupon Milt shared some photos with me. My Uncle Billy is in two of them depicting the King Neptune ceremony as they crossed the equator on January 10th, 1943, and they are priceless to me. There is so much more I could list if I went back over the probably hundreds of emails from 7 years of correspondence. I think I'll just post the link to his obituary so the rest of you can see what an awesome life he led, and what a truly wonderful person he was as a guardian of WW2 history. The Tin Can Sailor organization will be taking over the web site and maintaining Dave's legacy.
Rest in much
peace, Dave - sail on. I, for one will miss you.
Obituary for Dave McComb:
http://www.legacy.com/obituaries/poughkeepsiejournal/obituary.aspx?pid=171632004
-Tammi