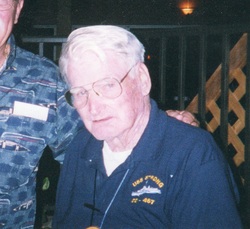 Regretfully, we have lost another STRONG DD 467 sailor. The family of St. Julien Barnwell, Seaman 1st class informed me of his passing yesterday. He died December 4th at age 92 in Charleston, South Carolina. This is the note I received from his nephew, Bob Harper:
"My uncle, St. Julien "Doon" Mazyck Barnwell, seaman 1st class, died today in Charleston, SC. He was 92. All his life he spoke of his love for his shipmates on the Strong. Even after serving on the Tingey DD-539, getting wounded when all his buddies in the 40mm Bofors gun tub were killed by a Jap shell, he still spoke of his Strong shipmates. A very simple, humble man who would take the new clothes my mother gave him and give them to his buddies. He asked for nothing and took nothing living very quietly with never a cross word. He drove a truck for over 3 million miles free of any accidents or citations. He's gone to the final muster with his shipmates, the rest of the heroes of the USS Strong DD-467.
Please update. He is survived by his daughters Diane (Moffett), who took him in 40 yrs ago, and Sheran (Caddell), and Charlie, his son along with my mother, his younger sister, Amelia "Toots" Barnwell Harper, who lives in Manning, SC. You can see their childhood home online by Googling "The Ruins" in Stateburg, SC-- a massive 200+ year old home.
Best regards,
Bob Harper"
It was a couple of years ago that I first had contact with the Barnwell family. From that contact with his daughters Diane and Sheran, the family shared copies of letters he wrote home both before and after the sinking, letters written to his mother by the sister of Benjamin Frazier Jetton and the mother of Robert Gregory. Jetton was the senior officer to my great-uncle Billy and the two of them died together at their duty station. Gregory was one of the men to discover the body of 2nd Officer Fred Purdy. They helped with the identification by discovering Purdy's wallet on the body and turning it over to the authorities once they were rescued. There were many personal connections like this that were made between the families when they didn't have any idea of the fate of their sons, brothers, husbands and fathers in the time after STRONG was lost. Reaching out to the Barnwell family, these other families hoped to hear some word, some memory of the man they feared lost. Jetton was a casualty, but Gregory did make it home to his family. I feel privileged that the family shared these and other documents so I could learn about the person that was St. Julien.
And, I am honored that in their time of loss they chose to inform me, and I feel it's my duty to let the other families know as well. Below you will find a link to the obituary on line, and contact information for Sheran Caddell is on the STRONG Contacts page. If you would like to send a personal condolence to the family, contact me for mailing addresses or other emails.
To St. Julien Barnwell, S1c of the USS STRONG DD 467, we bid you farewell sir, and calm seas.
-Tammi
Link to obituary:
http://www.legacy.com/obituaries/charleston/obituary.aspx?n=st-julien-mazyck-barnwell&pid=173371031&fhid=5500