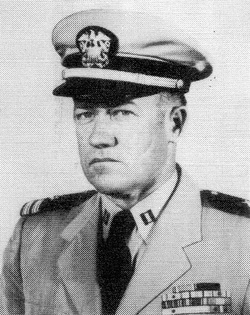 The nephew of Grady Lee Nelson, Jr., Mike Pauling contacted me back in January with information about his uncle. Mike found the web site and contacted me, and as I've done before I decided Grady needed a blog post so others could learn about him. Let me introduce you to Grady Lee Nelson of Coleman, Texas.
Grady was born January 23rd, 1922. He enlisted in the Navy in May 1941. Prior to surviving the sinking of STRONG and going on to have an illustrious 30 year Naval career, Grady was on board the USS ARIZONA BB-39 in Pearl Harbor on December 7th, 1941. He was topside and had the responsibility of setting up chairs and preparing for a church service on that Sunday morning. Grady was not the only Nelson on board. He lost four relatives, an uncle and 3 cousins that day. Family members on board ARIZONA with Grady were Harl Coplin Nelson, S1C from Arkansas; Henry Clarence Nelson, BM1c from Minnesota; Lawrence Adolphus Nelson, CTCP from California; Richard Eugene Nelson, F3c from North Dakota. Grady survived because he was able to dive off the side as the ship sank. The commander of the ARIZONA was Captain Isaac Kidd who died during the attack. The USS KIDD DD-661, the Fletcher-class destroyer currently docked in Baton Rouge, Louisiana as a museum ship is named for Captain Kidd.
Grady entered service with the USS STRONG DD-467 as a plank owner in May of 1942 with the rank of GM2c, a gunner's mate. After the ship was torpedoed, Grady was one of the men rescued by the USS CHEVALIER DD-451, and lucky to be on the list of unwounded sailors. Though unwounded, Grady never spoke of his experience on STRONG to any family members and no known accounts of his story exist. I've found this is not unusual, and since he had already been through the ordeal at Pearl Harbor, it's no wonder he kept his thoughts and emotions to himself. Being a plankowner, Grady and others like him had more of a personal and emotional investment in the ship than most.
These events didn't keep him from returning to the sea. After STRONG, he was assigned to another new destroyer, the USS ALBERT W. GRANT DD-649. GRANT was attacked by the Japanese in October 1944 during the first invasion of the Philippines toward the end of the war. She took 22 hits and was severely damaged. Casualties included 38 men killed and 104 wounded, but she was able to stay afloat. GRANT underwent repair and Grady was with her until February 1945, when he left to go stateside from Mare Island, California.
After serving as gunner's mate on other ships, he was tasked to teach small arms at the Naval Reserve Training Center in Boston, Massachusetts. He completed several courses in Navy school including Gunner's Mate (to train others) and Electric Hydraulic School, 8"/55 Caliber Rapid Fire Turret training; 5"/54 Caliber gun training; Electrical, Electronics & Hydraulic School; ASROC Launcher and Instructor and Leadership School. He received a commission from Chief Gunner's Mate to LT. Junior Grade in May 1961. After training at Limited Duty Officers School in Newport, Rhode Island (not part of the Naval War College located close by), was assigned to the staff of the Officers Candidate School as weapons instructor. In July 1963 he was assigned to USS BOSTON CAG-1 (Baltimore class heavy cruiser) as Missile Ordnance Gunner performing Weapons training, and was there until September 1965. Later, he was assigned to Fleet Training Center in Newport, Rhode Island as Weapons Training Officer. He retired as a much decorated officer after a long and distinguished career in the Navy.
Grady died October 20th, 1993. In December of 1993, Grady was laid to rest in the wreck of the USS ARIZONA at Pearl Harbor with his uncle, cousins and other shipmates. If you would like to read the entire article on the memorial service, here is the link:
http://chaplaincorps.navylive.dodlive.mil/2013/12/31/interments-for-pearl-harbor-veterans-and-burials-at-sea-a-sacred-privilege-and-naval-tradition/
On a couple of personal notes, Mike tells me Grady is responsible for him being here. While in training, Grady introduced one of his promising students to his daughter Ellen Nelson. They married and started a family, resulting in Mike. Thanks Mike, for sharing. In addition, Mike wanted me to know that in general Grady never held a grudge for the Japanese people. Over the years persons of Japanese descent married into the Nelson family. One of these men in particular was with his family in an internment camp in California during WW2. This camp, Manzanar National Historic Site is now a park and the gentleman is the director of the park.
Thank you Mike and Ellen for providing me with the biography and other information on Grady. I appreciate being able to share these men with others and to learn about them myself. See the article below for more on his experiences at Pearl Harbor.
Tammi