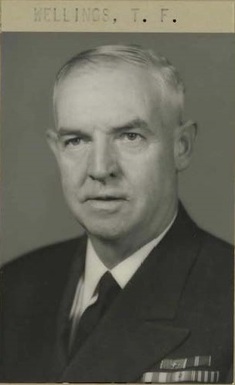 In the last blog entry I discussed the eldest of the brothers, the first "Gus", as our own Captain Joseph Harold Wellings was also "Gus" to his friends. But the second brother needs to come before our Gus. In order to get this right I needed to do a little extra research, so thanks to Jocelyn Wilk at the Columbia University archives for her help! So this time, Rear Admiral Timothy (Ted) Francis Wellings.
Ted was born in Boston, Massachusetts on December 10th, 1898. In 1917 he became Midshipmen after an appointment to the rank by Massachusetts Senator Henry Cabot Lodge. He became a crew member of the USS Maine in 1918, and then 1919 joined the crew of the USS Delaware. He saw duty on the USS South Carolina in 1920. As of September of 1920, he entered the Naval Academy and came out with the rank of Ensign, then headed to the USS North Dakota. In 1921 he was assigned to the Destroyer Force Atlantic Fleet and duty on the USS Meredith. During his time on the ship, he attended training at the Naval Torpedo Station in Newport, Rhode Island, which lasted about six months. From there, he joined the crew of the USS Litchfield. In 1923 he moved to the USS Overton where he received a commission to Lieutenant (jg). During 1925 he was called to Washington, D.C. for temporary duty and instruction in Naval Communications. In 1926, back to sea and the USS Brooks. While serving on the Brooks, he achieved full rank and was commissioned a regular Lieutenant in September of 1926. In 1927, he returned to Annapolis for post-graduate work, then on to the Naval War College in Newport in 1928. By 1929 he was part of "Train Squadron One, Fleet Base Force (Aide and Flag Lieutenant on Staff of Commander). He remained in this position until 1932, then back to the Naval Academy for more post-graduate work. He reported to the USS Idaho in 1935, and by 1936 was the Assistant Gunnery Officer. In 1937 he achieved the rank of Lieutenant Commander. Back to the Naval Academy in 1938, and more training. By 1940 he assumed command of his own ship, the USS Perkins. In 1941 the USS President Jackson, built by Newport News Shipbuilding in 1939, was undergoing conversion to fit her up for World War II activities in Willamette Iron and Steel Company in Portland, Oregon. Ted was sent there to oversee the job and assumed command of the ship. In March he was commissioned regular Commander, then Staff Commander of the Amphibious Force, Atlantic Fleet. During July of 1942, the ship was docked at the Naval Operating Base in Norfolk, Virginia. Wellings was busy with conferences in Washington, D.C. and spent time away from the ship.
In May 1943 he was appointed Captain for temporary service, and in October assigned to Task Force 122, Twelfth Fleet, serving in the Atlantic. The Twelfth was a consolidation of the U.S. Naval Forces with those of Europe under Admiral Harold Stark. By 1944, Ted was part of Service Force Atlantic Subordinate Command, Naval Operating Base in Norfolk. Later that year in August, he was assigned to the USS Wyoming as Commander. Wyoming was being used for Gunnery training at the time, operating in Chesapeake Bay (my great-uncle Billy actually trained here in 1942 prior to his assignment to Strong). Ted served there for a short time before attending more courses at the Naval War College. In 1945 he became a professor on staff at Columbia University teaching Naval Science and Tactics, also receiving the Croix de Guerre (Cross of War) with Gold Star from the country of France, for his heroism and bravery as an ally of France in World War II. He taught as a Professor of Naval Science without salary at Columbia until his resignation in 1949.
Awards received during his career include the Legion of Merit, Gold Star, Victory Medal (Atlantic Fleet, USS Maine), Navy Expeditionary Force (USS Litchfield), Second Nicaraguan Campaign Medal (USS Brooks), American Defense Service Medal (Fleet Clasp, USS Perkins), and the European-African-Middle Eastern Area Campaign Medal.
His biographical profile fails to indicate when he retired from the Navy, but he battled cancer and his health affected his decisions. His grandson Tim remembers him as a loving man who enjoyed Camel cigarettes and Reese's Peanut Butter Cups. Ted Wellings died in 1969. He was married twice, first to Antoinette. He is buried in Arlington National Cemetery with his second wife Conna Hannah who passed in 1972. Ted had one child, a son Timothy F. Wellings, Jr, also Ted who died in 2013.
Thanks also to Cindy Hayes and Tim Wellings, his grandchildren, and to Anne Heffelfinger, his niece for their input and support!
Wellings brothers burials:
http://www.arlingtoncemetery.net/wellings-family.htm
Next installment will be about our own Joseph Harold Wellings.
Tammi