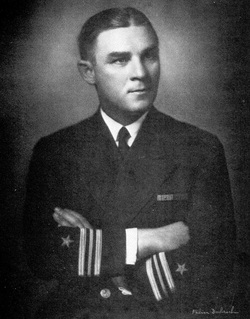 It's time to talk a bit about our own Captain Joseph Harold Wellings. I've been procrastinating on this one for a couple reasons – it's the easiest to write because I know more about this man as a person, and the hardest to write for the very same reason. Getting an email recently from his daughter Anne kind of kicked me back into gear. Instead of doing a chronology of his military achievements as I did for the first two brothers, this will be more personal. His history is more skillfully chronicled than I could ever do in an introduction done by John B. Hattendorf, the director of the Naval War College Museum in Newport, Rhode Island, in the front of the book titled "On His Majesty's Service", a compilation of letters, diary entries and official documents from the time Wellings spent with the British Royal Navy in 1940-1941. A copy of this book in its entirety in PDF format is available on my
Navy Links and Research
page, or you can contact the museum for a hard copy. Their address and contact information is also linked on this page of my site. It's very interesting reading, especially the middle part of the book detailing his time with the crew of the
HMS Hood
, Britain's most famous battleship of the time, sunk by the German battleship
Bismarck
on May 24th, 1941. Wellings was on board the
HMS Rodney
, one of the key ships that brought
Bismarck
down just 3 days after sinking
Hood
. The radio transmission transcripts on this event as detailed in the book are riveting. A few documentaries on this subject can be found on-line, many are on YouTube, a couple of them by our own David Mearns of Blue Water Recoveries, LTD.
He was born on April 23rd, 1903. For the purposes of this blog, the captain will be "Harold", as he was called by his wife Dolly, or Dorothea. Getting back to our Harold, I was privileged to get access to his personal and military archives at the Naval War College back in 2012. I brought home a plethora of letter copies, letters he wrote home to his wife and child, and a few that had been written to him by family members who wanted to know the fate of their boys after the sinking of
Strong
. From these letters, I developed my impression on his character as a man: as a husband, a father, a leader and captain.
Without fail, every one of his letters to his wife began with an endearment such as "sweetheart", "my darling" or "dearest one". Harold and Dorothea Bertelsen were married on January 23, 1937 in Boston. He wrote her several letters a week, sometimes two a day depending on what was happening in his world at any given time. He was a man completely devoted to his wife, while at the same time working hard to maintain and advance his career in the Navy. I only collected letter copies from his time on Strong because my research is focused on that time of his life. More of these letters are excerpted in the book mentioned above. You see the same patterns of endearments, of longing, of missing her companionship, conversation and longing for her in more intimate ways that made me more than a little embarrassed and feeling a bit like a voyeur. This was heartwarming though, as many times time and distance can damage a relationship. With Harold, it only strengthened the depth of his love and devotion. He would close just as romantically, with "Your everything", "Yours forever" and "Your own". He would make arrangements to have flowers delivered to her on special occasions and often sent home gifts such as beaded necklaces from the islands of the South Pacific. A man after my own heart.
As a father, he missed his little girl. Most of his letters included an "aside to Anne", with a special note to her, sometimes asking about her time in school, sending pictures he cut from a Life magazine and daddy hugs and kisses. Anne had to have her tonsils out at age 4, and he wrote to make sure she got through her surgery okay and knew that he was thinking of her. One letter with an airplane was hand drawn by his second in command, Fred Purdy. On the edge of another letter page, was drawn a fancy car picture with the family drawn in for Anne to see. Another letter with a P.S. has him referring to himself as "Daddy Boom". I had the chance to ask Anne about that when I met her in 2013 and if memory serves, it was because he was on a big ship that went "boom" on occasion. He would encourage her to write letters to send, as he loved hearing from her as well. During this time she went from 4 to 5 years of age, so it's likely she had help in the writing. Unfortunately, I did not look for any copies of her letters.
As a leader and captain, he was unparalleled. I'm sure the man had his faults in all areas, however the predominant feeling from everything I've read is that he ran a grand ship. He was well respected and even loved by his men and the officers serving under him. When the ship sank, months later while he was recuperating in a hospital, he was personally responding to family members who wrote to him asking about the fate of their men who were still missing. He could have put out a form letter, he got so many. But he didn't, and I have a letter copy to my family that shows the depth of his commitment to the ship and the lost men. His youngest brother Al was stationed in Espiritu Santo and other areas of the Pacific in the battle zone. As Harold lay recuperating, his brother Al was able to come be with him and keep him entertained. In April of 1943, Harold came down with a flu bug on board ship. At the time they were in port in Espiritu Santo, and while napping one day, he got a knock on his door. Brother Al came by for a visit. Al and Harold spent that day eating ice cream and watching movies. Thanks to Anne for reminding me of this and allowing me to share the story!
Harold returned to the Pacific a year or so after the sinking of Strong, and once again was a commander including a stint as the head of DESRON 2 for a while. Years later he had a career as the head man leading the Naval War College. He suffered a stroke in 1963 which ended his military career. The good captain died on March 28th, 1988 in Newport, Rhode Island where he retired with his beloved Dolly. He was buried with his brothers in Arlington National Cemetery.
So to sum up, I could see myself really enjoying a good sit down with this man, sharing a good wine or whiskey and hearing stories of glory days. I so wish I'd had the knowledge that he was still around sooner, it would have been incredible to have contacted him. I'm so lucky to have so many other folks who have given me their time and their stories. Thank you all.
The next and last Wellings brother Al, well he's going to get his turn soon.
And while I'm thinking of it, Merry Christmas and Happy New Year to you all!!!
-Tammi