Art prints of USS STRONG DD 467 now available. See details below!*
Welcome to the home page for Project USS STRONG DD-467! (Updated 1/13/2019)
Next reunion September 2019 in historic Savannah, Georgia!


This project began as a labor of love, to honor my great-uncle William "Billy" Clay Hedrick, Jr., an Ensign and Junior Communications Officer aboard the USS STRONG DD-467. Billy died in performance of his duties on July 5th, 1943. STRONG and her Task Force 36.1, including DESRON 21 were bombarding targets at Kula Gulf of the Solomon Islands, in between Kolombangara and New Georgia, when a Type 93 or "long lance" torpedo shot from over 11 nautical miles away by a Japanese destroyer cut through the middle of the ship, breaking her back. Billy and 45 other officers and shipmates lost their lives that night. I've seen over the years that more needs to be done, and not just for the sake of Uncle Billy. The larger goal of this project is to see that the sacrifices of these men are not forgotten, that history gets re-written to include the loss of these men and their ship in a major battle, and to bring proper and long-overdue recognition to a remarkable survivor of the Strong, Lt. Hugh Barr Miller, Jr., who was recommended for and should have received the Nation's highest award for valor, the Congressional Medal of Honor.
I've spent decades researching the ship, her men, the life of Uncle Billy, the Naval Reserve and deep sea exploration. The result of which is, the beginnings of a book, a long list of USS STRONG DD-467 family members, amazing research partners, and a man who has shown serious interest in our quest to find STRONG and tell her story,
David Mearns of Blue Water Recoveries, LTD
. Check his web site for more information:
http://www.bluewater.uk.com/contact.htm
David has a proven history of finding hard to find or impossible to find sunken ships. He is also an accomplished author and producer of documentary films that accompany the finds. The desire is to bring together in some organized fashion the surviving members of the ship's crew and their families, friends and relatives, and honor the memory of these men and their ship. If possible, we would like to shoot a documentary. His memoirs have been released this year in Australia and in the UK. His book,
The Shipwreck Hunter
was released in the US market in June 2018. To purchase the book and learn about his decades of work in ocean exploration, order at
Amazon.com
.
*Thanks to David Mearns, shipwreck hunter extraordinaire, I am now friends with a key crew member of the RV PETREL research ship, submarine and ROV pilot Paul Mayer (and his lovely wife Rosie). The PETREL is one of the many ships in the arsenal of Paul Allen and his Vulcan, Inc. company. It's the most recently acquired and has been fitted out for the work of searching the sea bottom for lost WWII shipwrecks and other projects as required. In the search for Strong, this is the most likely vessel. Paul Mayer and the group are uniquely qualified to complete the mission of locating STRONG and we will see what the future brings.
​
One thing I need to make perfectly clear for this possible expedition. The goal is to film and document the wreck in order to better understand how the torpedo caused her destruction, and to finish her historical report. NO RECOVERY of remains or artifacts will be conducted. I think because I have a group interested with the word "recovery" in their name may have caused some confusion. The site is a Naval military war grave site and will not be disturbed by anything other than an ROV with camera attached for filming. No other recovery or disturbance is allowed, necessary or planned at this time.
The reunion of the USS STRONG DD-467/758 Association and families for 2019 will be in Savannah, Georgia. Details and forms will be available on the Strong Association Reunions web page closer to time at:
http://www.uss-strong.com/1reunions.htm
*Anyone wanting to join the USS Strong Association can contact Joe Monza or Jim Kelly from the web site, or email me for their phone numbers or mailing addresses. Cost is $10.00 for one year or $100.00 for a lifetime membership in the organization. Anyone planning to attend the reunion this year can join before you go, or while you are there.
This web site is a tool for finding and informing other family members of sailors who served on STRONG DD-467. It has become a place to meet and greet other family members, exchange information and to post a historical sketch of your loved one, be they a survivor or one who was lost. All who are interested are welcome to share information.
Other ships involved in the engagement that night including the Japanese vessels were:
Fletcher-class destroyers:
Light cruisers
:
Japanese destroyers
:
USS CHEVALIER DD-451 USS HELENA CL-50 IJN Yunagi
USS O'BANNON DD-450 USS ST. LOUIS CL-49 IJN Niizuki - believed responsible for Strong's demise
USS NICHOLAS DD-449 USS HONOLULU CL-48 IJN Nagatsuki
IJN Satsuki
I've added links to the web sites of these ships on the Navy Links and Research page. There were at least 14 other allied ships involved in the engagement that evening, a total of 21. Contact me for more information on the rest of Task Group 36.1. I have a list compiled of the ships in action.
Any information or stories from sailors who served aboard these ships is welcome, also. I've spoken with a few men from HELENA, NICHOLAS and CHEVALIER who have shared their stories of the sinking and rescue of the survivors following the event.
Welcome to the site. Any comments or suggestions on content or presentation are welcome. I also welcome help with content, Including individual contributions to the blog page.
If you would like to write something and have it posted, please send it to me. I intend for this to be a forum for others interested in these ships and their crews, not just for myself
. I've currently added a mailbox specifically for inquiries related to the project, it's listed below. Please contact me there for more information.
Tammi Hedrick Johnson
Kentucky
* To reach me with a comment, suggestion or just to say hello, use the email below:projectstrongdd467@twc.com
P.S. Many thanks to Andy Hoder (son of Stanley Hoder) for his helpful suggestions on content, and for his never wavering support!
*Now on Facebook!!! Share the page with friends to get the word out about Project USS Strong DD 467!
Ensign William C. Hedrick, Jr.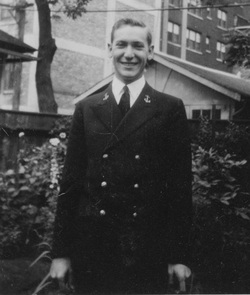 Billy Hedrick, class #8 Midshipman's School V-7 or the 90 day wonder program (see Navy Links & Research page for more info) at Northwestern University, Chicago. This photo was taken outside of Abbott Hall after graduation and receiving his commission papers at the end of October of 1942. He was 23 years old in this photograph.
He was born in Mount Sterling, Montgomery County, Kentucky on February 12th, 1919. Billy was the 12th of 14 children. Three of those children died before age 14, and only a handful finished secondary school. Billy graduated from Mount Sterling City High School in 1936, and went to college on a full scholarship to Transylvania University in Lexington, Kentucky, graduating with "high distinction" and honors in 1940.



In March of 1942, he signed his enlistment papers in Louisville, KY. After training, he was assigned to the Pacific fleet headed for duty in South America. Once they reached the Panama Canal in early January of 1943, the captain got orders to proceed west through the canal and on to the south Pacific. He served aboard STRONG from December 17th, 1942 until she sunk on July 5th, 1943. He was 24 years old at his death.
---
The Saga of Lt. Hugh Barr Miller, Jr. as told by Stephen Harding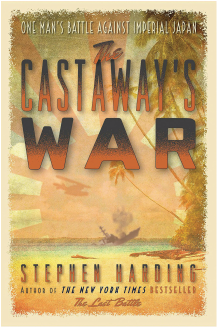 The story of Hugh Barr Miller, Jr. and his ship the USS STRONG DD 467 has been told by author and World War 2 historian, editor in chief of Military History Magazine's Stephen Harding. From beginning to end, we learn about his early history, his training received while a member of Wallace Wade's Rose Bowl team at the University of Alabama in the early 1930's and how it helped him to survive the experience of being shipwrecked and alone on a Japanese held island in the central Solomons. In addition, the stories of other men on board STRONG, including my uncle Billy are profiled. Thank you to Steve for a job VERY well done.

Available on Amazon.com and all other internet book outlets!

And, as a bonus:
Stephen Harding and Da Capo Press are immensely happy to announce that the motion picture rights to THE CASTAWAY'S WAR have been optioned by Paul Brooks' and Scott Niemeyer's Hollywood-based Gold Circle Entertainment, producers of the "Pitch Perfect" and "My Big Fat Greek Wedding" franchises. News of the deal first broke in Publisher's Marketplace, and additional details will be announced in the coming weeks.

*This wonderful book will be a movie! We are waiting for word of script development and the involvement of a director. Another book by Steve, "The Last Battle" will go into production in 2018 or 2019, as a new director has been added to the film project. More on this when I can share the news. Thanks to Steve Harding for the update!!!
---
The Shipwreck Hunter by David L. Mearns
I'm happy to announce the release of this new book by shipwreck hunter extraordinaire, David Mearns! The book was released in Australia and the UK in 2017. The book is out now, so get a copy and read all about his exploration and discoveries! Those interested in copies can order at Amazon.com. Barnes & Noble on line also carries the book as do other major bookstores. Check locally to see if anyone else has them on the shelf.



---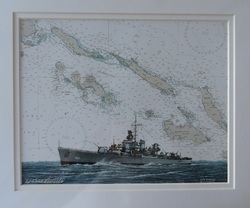 Recently a family member commissioned a water color painting of the USS STRONG DD 467 on the backdrop of a nautical chart of the Solomon Islands. Fortunately print copies of this beautiful painting are available to anyone who wants one. The site carrying the print is Chart Art, the link is below. It comes double-matted in the following sizes and price ranges, framed or unframed:

11x14 Matted $40.95
20x24 Matted $111.09
11x14 in custom frame $111.09
20x24 in custom frame $28.09
30x36 in custom frame $327.14

Chart Art: http://chart-art.com/
Contact: Mike at chartart@charter.net

These prices may not reflect shipping and handling so be prepared for a few dollars more, especially if you order it framed. Email him if you have any questions concerning shipping or other issues.
---