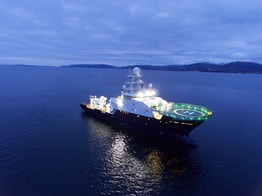 ​Today was a huge breakthrough in the development of this project. Thanks to David Mearns, shipwreck hunter extraordinaire, I am now in direct contact with a key crew member of the RV Petrel research ship, submarine and ROV pilot Paul Mayer. The Petrel is one of the many ships in the arsenal of Paul Allen and his Vulcan, Inc. company. It's the most recently acquired and has been fitted out for the work of searching the sea bottom for lost WWII shipwrecks and other projects as required. In the search for Strong, this is the most likely vessel. Paul Mayer and the group performed a preliminary search in the Kula Gulf in 2015, but the equipment they had on hand didn't reveal the ships location. They have a superior scanner now and plan to try to use it at some time this year. Future projects will take them close to the area and the plan is to swoop in and do a quick scan. Once found, they will notify me and we will see what transpires from there. He is aware of what I'm trying to accomplish for my uncle Billy and for the family members of the Strong.
Being able to have some time with a professional in his position was amazing and I understand how rare it is to have such an opportunity. These guys work long hours at what they do, even though there is fun and triumph in the work. There are times when things break down or go wrong. Most of this gets edited out of any broadcasts, but the mishaps always add a human dimension to the stories they tell of the loss of the ships and their men. Paul tells me there is another research team also interested in searching for Strong this year. This group has manned submersibles to test run and want to dive the Strong wreck for practice. The Kula Gulf is a small enclosed area, nicely contained and good for this type of exercise. The wreck of the Strong provides them with a good test subject free from large ship traffic. Paul is friends with these folks and will advise them that I would like to be notified if and when they get to work. I'm withholding the name of this group for now, but they have also worked with David in the past. So if we are successful in this the 75th anniversary of the sinking of Strong, in getting her found - David is the man to thank for helping me put all the pieces together either way. And I might just owe him a nice bottle of some good Kentucky bourbon and a lot more.
Same to you Paul, for giving me access to your expertise and knowledge! To see Paul and his cohort Rob Kraft and the team at work, check out the live shot video of the USS Indianapolis wreck:
https://www.paulallen.com/watch-live-tour-uss-indianapolis-wreck/
I'm completely humbled and amazed that this has gotten this far. Beyond expectations, so I guess I need to set up some new ones!