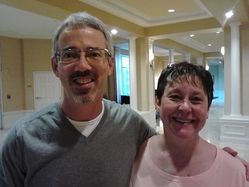 The past few days have kind of been a blur as they always are at these functions. Something new, different and wonderful always happens. One new thing, Rocky Britton of the DD 467 and his daughter Darlene and son-on-law Randall are here. Rocky hasn't been back to a reunion in a while, so it was very nice having him and his family come.
The other wonderful thing is the appearance of David Mearns of Blue Water Recoveries, LTD. David had to be over here for a meeting in New York and a couple of other visits on the east coast, and he decided to make time to stop by Gettysburg to meet me and hubby Greg in person for the first time, see Andy Hoder again and to have a chat with our DD 467 guys, Jim Merriman and Rocky Britton. David arrived on Wednesday late afternoon with a smile on his face, and thankfully he left with one! He had a great time meeting these folks of the DD 467/758 association. We went to dinner at Dobbin House Inn, the oldest building in Gettysburg dating to 1776, and had a wonderful conversation peppering him with questions about his work. Then we came back to the hotel to spend time in the hospitality room until we were tired enough to drop. After breakfast the next morning David was on his way, but in his wake he left a lot of hope and inspiration for the future of this project to locate and document the wreck of the DD 467 in the Kula Gulf. If anyone can do it, it's David and I would not even want anyone else to try and tell this story in documentary form. The guy is excellent at what he does and does it well.
So to help others understand a bit more about his work here's a link to his web site, which is also on my Navy Research page:
http://www.bluewater.uk.com/
For books about his underwater explorations and findings, see the
Navy Research and Links
page on the site.
In other news, the early release of Stephen Harding's latest book, The Castaway's War, scheduled for May 3rd of 2016, Amazon's web site for pre-ordering the book which is sure to be a blockbuster!
http://www.amazon.com/Castaways-War-Battle-against-Imperial/dp/0306823403/ref=sr_1_1?s=books&ie=UTF8&qid=1442058498&sr=1-1&keywords=the+castaways+war
For other books by Stephen Harding:
http://stephenhardingbooks.com/praise.html
-Tammi