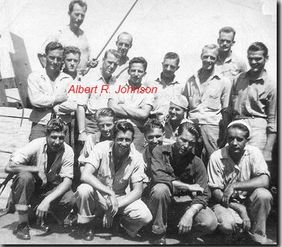 Back in early June I posted a blog with a list of the 21 ships that were part of "Operation Toenails" from late June to early July of 1943. Operation Toenails was the push to land allied troops on New Georgia Island to push the occupying Japanese forces further west away from central Solomons control. One of the ships listed was the USS CROSBY DD164/APD17, a re-fitted Wickes class destroyer that was used as a troop transport. CROSBY carried 4th Marine Raiders to the landing sites at Segi Point and other areas of New Georgia Island. Soon after the posting I received an email from a man whose father was a signalman on the CROSBY, a Mr. Albert R. Johnson. His son Mark provided me with some of his father's written observations of his time in the South Pacific. I always love getting these notes from family. Albert was not on STRONG or part of Desron 21, but he was involved in the actions. One of his shared observations is about where he was when he learned of the attack on Pearl Harbor. I thought I'd share his writings in a blog.
From Albert R. Johnson, Signalman USS CROSBY DD164/APD17:
"I joined the Naval Reserve on October 10, 1940 and was discharged October 3, 1945. During that four years, eleven months and twenty-four days I had many memorable experiences on the USS Crosby DD 164/APD 17. The first year December 17th, 1940 to December 7th, 1941 was spent in what was called "neutrality patrol" of the west coast of the US. Europe was involved in an all out war of the allies (England, France, Etc.) with the axis countries mainly Germany and Italy. The United States remained neutral until December 7th, 1941 just 10 days before our 1 year of active duty was to end.
At the time of the attack on Pearl Harbor, the USS Crosby was at the destroyer base at San Diego, California for an overhaul that was to take two months. I was on liberty standing on the steps of the Broadway Street YMCA, when the word was flashed that the Naval base at Pearl Harbor, HI was under attack, and that all military personnel should return to the bases or ships. I was about five miles from the destroyer base. I had no transportation, so I began walking. I noticed armed Marines going into the bars and ordering military personnel to get out and into large trucks waiting in the middle of Broadway. It was hard to believe that we were at war.
I finally got to the base and to the Crosby. Practice ammunition, torpedoes and depth charges had to be replaced with live ammunition, torpedoes and depth charges. After eight hours of feverish labor by all hands, including the officers we got underway. Our mission was to escort the aircraft carrier Saratoga to Pearl Harbor. The Saratoga was loaded with planes, supplies and personnel needed at Pearl Harbor. Men and boys who had joined the Navy that morning were going to active duty in a war zone with no training – all they had were the necessary shots and inoculations.
As we stood out ahead of the Saratoga, people were waving and hollering "good luck", little did anyone realize that half of the Navy ships that were guarding the west coast were leaving. The Japanese could have landed anywhere they wanted to. After a few hundred miles of screening for the Saratoga, it was decided that she would go on unescorted as the destroyers would need to fuel at sea due to high amount of oil used at flank speed.
We returned to base and were occupied chasing Japanese subs, training armed guard gun crews that would be stationed on merchant ships in convoys mainly to Europe. We also were used to train a new Marine corps group called the "Marine Raiders" - Colonels James Roosevelt (son of the President) and Edson (?) units aboard the Crosby.
In December of 1942 we were sent to Mare Island, California where we would be converted to a high speed transport. Basically the forward boilers were taken out and living spaces for a company (about 100 men) replaced the fire room and boilers. Thus, the destroyer transports were able to carry specially trained troops to lead the large landing forces into battle.
I was a signalman and on the invasions. I went into the beach with the troops to provide communication between the ship and shore party. This meant facing often severe enemy fire on the way into the beach. From February 1943 until June 1945 we made no more opposed landings into enemy held islands. In February 1943, we left San Francisco for the South Pacific."
Thank you Mark, for sharing this information about your father. For more information on the history of the CROSBY:
https://www.flickr.com/photos/ravenillini/sets/72157680268324950/
-Tammi